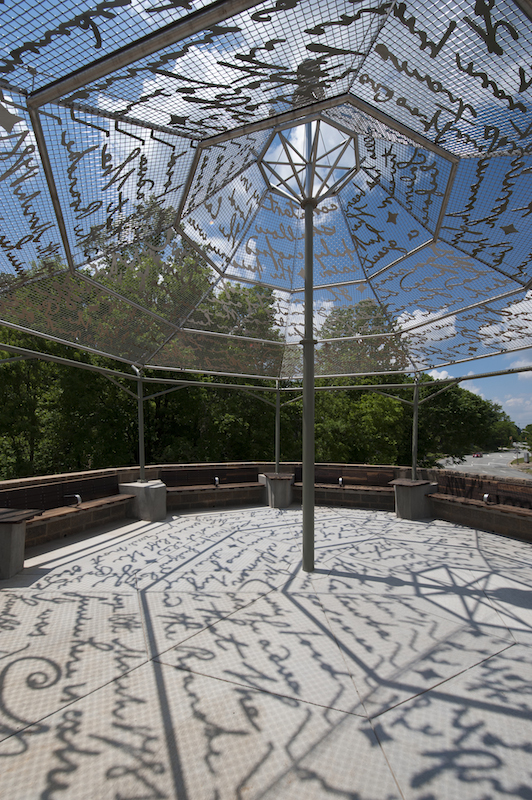 Location: Downtown Greenway, Greensboro, NC (2014)
Materials: Steel, stainless steel, concrete, wood, permaculture orchard, edible planting
Budget: $200,000
Funding: Lincoln Financial Foundation and The Downtown Greenway
Photo Credit: Scott Crowder, Ted Patrick
Permaculture: In collaboration with Charlie Headington, and a crew of volunteers
The Downtown Greenway of Greensboro, NC is a 4-mile walking and biking greenway that will eventually encircle the city's central business district. Mags Harries and Lajos Héder created Meeting Place for the "Tradition Cornerstone" of the Greenway, the second of four major artworks to be installed as anchors at the corners of the Greenway. "Tradition" is interpreted in an unconventional way. The artists are interested in bringing back the tradition of using the land productively and sustainably by creating a green community oasis complete with permaculture orchard. New traditions will develop as fruits ripen and are shared.
Meeting Place addresses the entire site of the Greenway's northwest corner at Prescott and West Smith Streets. The landscape is re-graded and transformed with an orchard and native plants. A winding path leads to the focal point of the design- a circular gathering place reminiscent of a gazebo or tent.
The canopy of the structure is made from woven stainless steel mesh, evoking Greensboro's history of textile production. Words cut from stainless steel sheet are excerpts from letters of Nathanael Greene to George Washington before and following the Battle of Guilford Courthouse, which took place near the site on March 15, 1781. The letters reference not only the battle, but also the landscape of this part of North Carolina. The lettering is derived from Greene's own writing, creating an intimate connection with this past event. Sunlight projects shadow words into the interior of the space, enveloping visitors in light, shadow and pattern. The interior features simple seats and tables made from wood and concrete. It is an invitation to view, congregate, think, explore, and celebrate history and the traditions of Greensboro.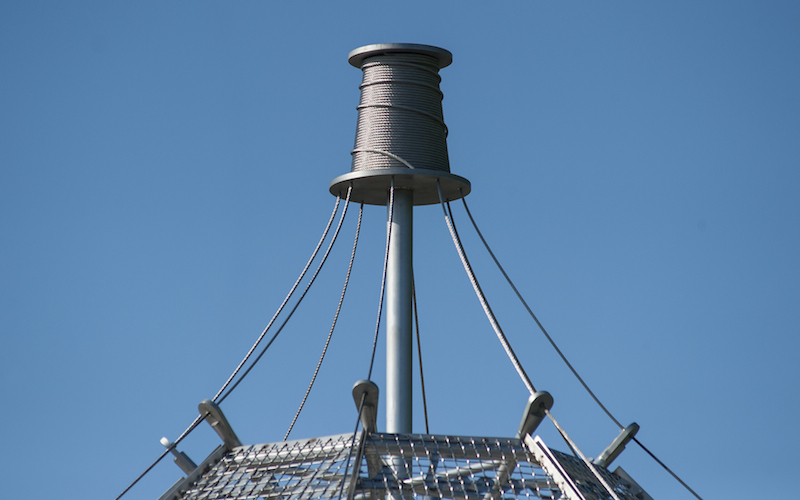 The Downtown Greenway is a collaborative, public/private partnership between the City of Greensboro and Action Greensboro, an economic development organization.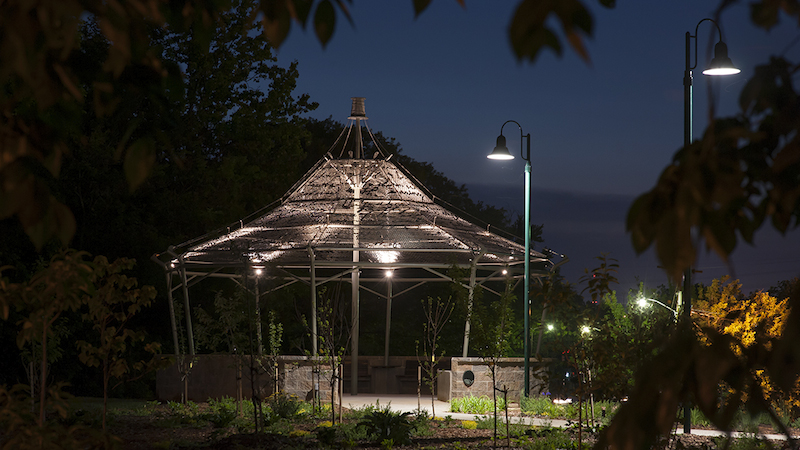 back to top